50. Wyoming: The bird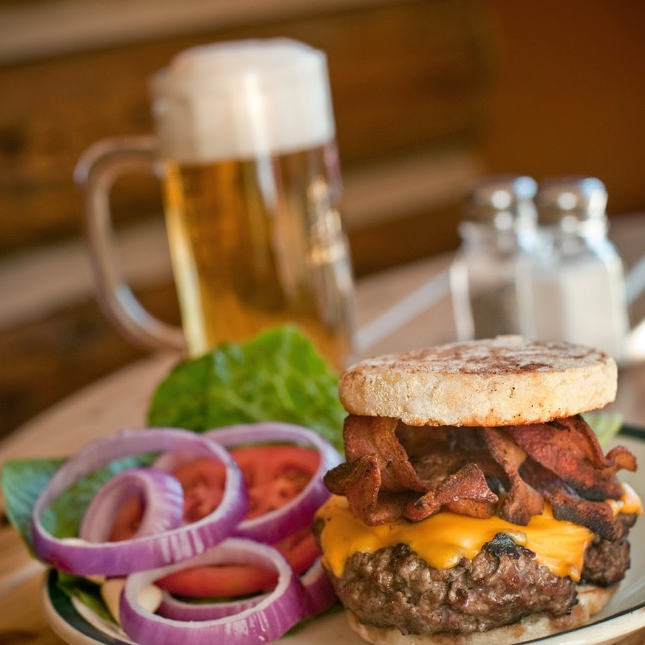 This laid back bar and grill is located in Jackson, Wyoming. The Bird claims to be a spot where the employees "really and truly give a damn about you having a good time." The restaurant has all different burgers with creative and questionable names: "ghetto on a good day", "filthy harry", and "dirty @*& %."
Image Source: Google Maps

49. Vermont: Worthy Burger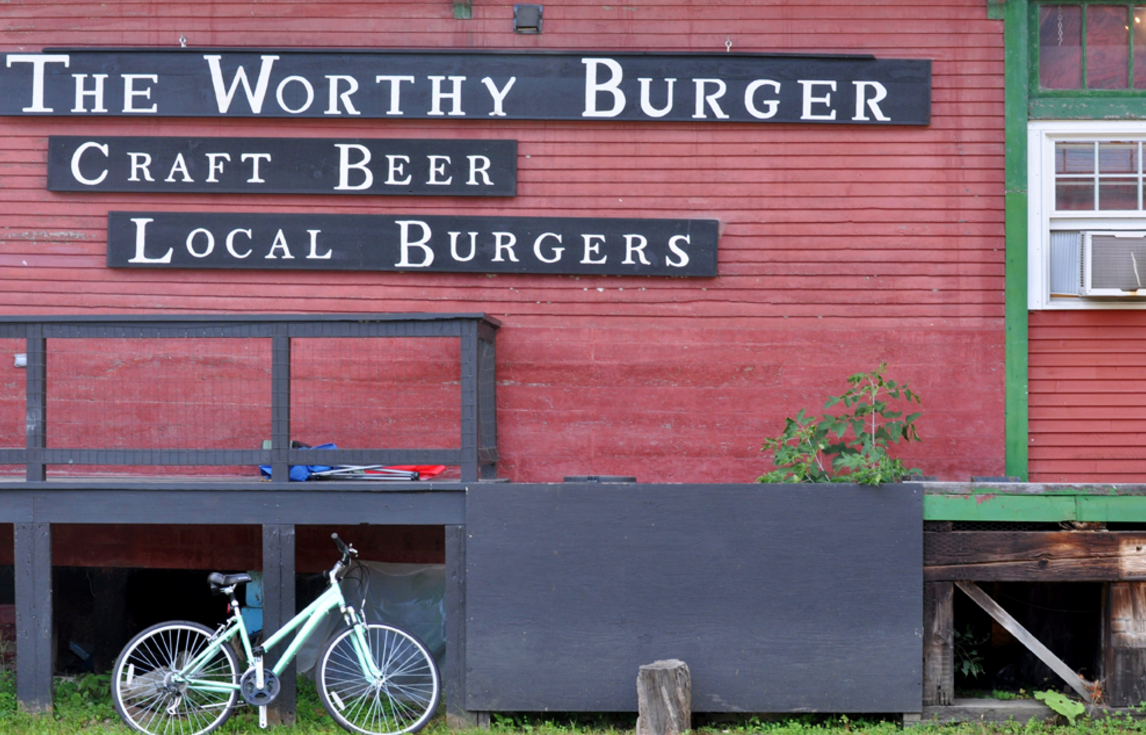 What happens when you mix Executive Chef Jason Merrill with farm fresh ingredients? Something worthy. Worthy Burger deals only with local farmers to help get the best quality ingredients for its burgers.
Image Source: Happy Vermont

48. Alaska: West Rib Pub and Grill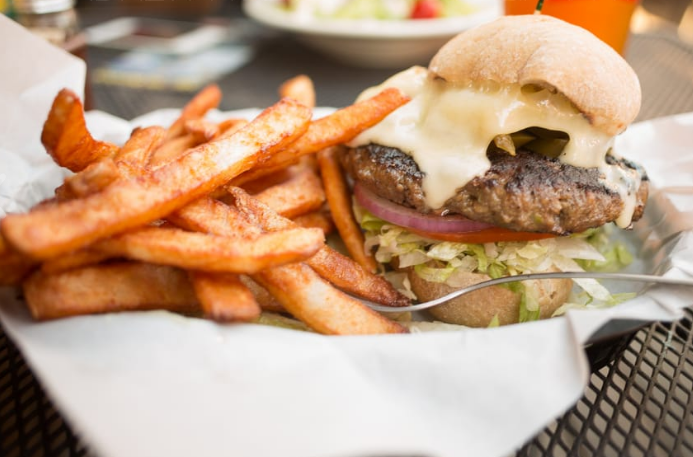 Locals will tell you that this is the place to eat when in downtown Talkeetna, Alaska. It is an old, historical bar filled with great staff and even better food. While enjoying your burger, and beer if you choose, you might also see the Mayor Stubs walking around (a cat…).
Image Source: Andrew H./Yelp

47. North Dakota: Sickies Garage Burgers & Brews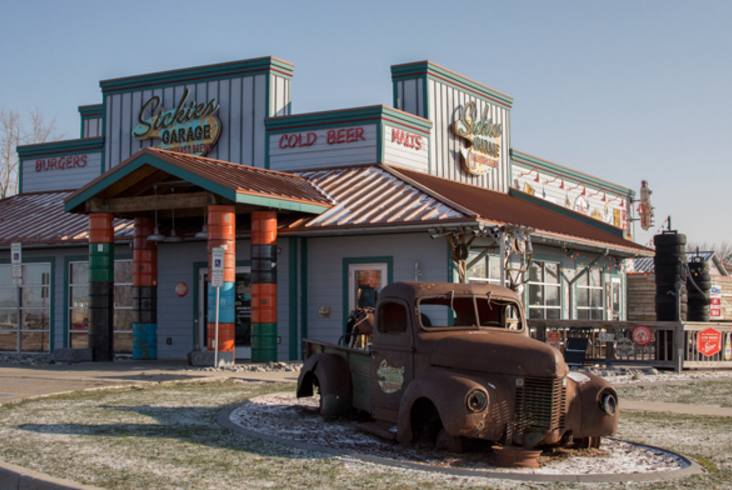 Sickies Garage makes practically anything into a burger, which is why its a must if you're in Fargo, North Dakota. From the "Egg Head Benedict" to a "Glazed Doughnut Burger" the menu options are definitely not the average burger menu. If you're feeling daring you can try the "Turbocharged Twin Cam," which is 2 cheeseburgers, 2 fried eggs and 4 slices of peppered bacon stuffed between 2 grilled cheese sandwiches.
Image Source: Sickies Burgers

46. South Dakota: Hemmers Brothers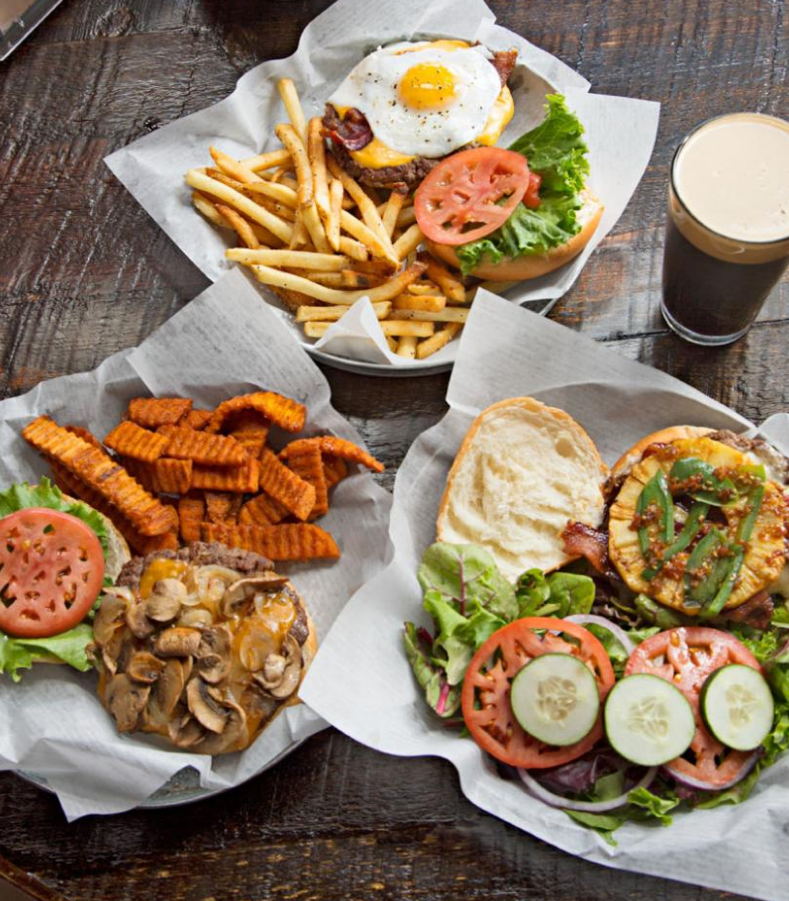 Would you prefer The Greek Goddess, The Hot Granny or The Fun Guy? No, these aren't people we're talking about- We're talking burger options at Hemmers Brothers in Custer, South Dakota. While they have the originals on the menu, they also offer a "Burger Of the Week" option to keep things interesting.
Image Source: Midwest Living

45. Delaware: The Charcoal Pit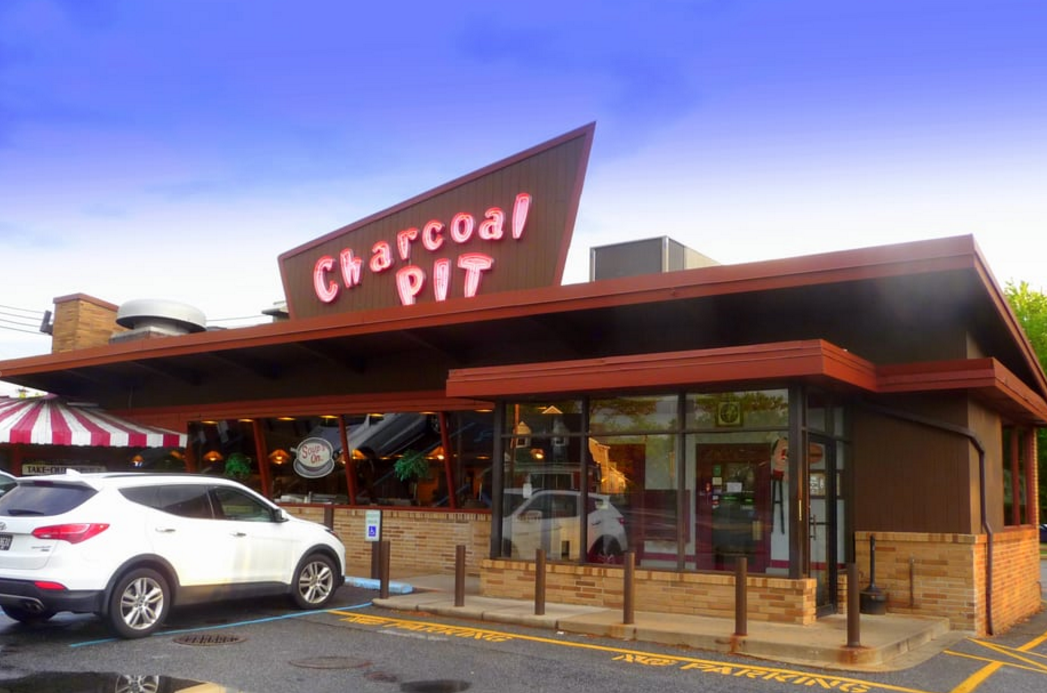 The Charcoal Pit is a classic 50's/60's diner located in North Wilmington, Delaware. Some locals will call this place their "High School hangout" considering it has been around for 50+ years. The Charcoal Pit is a Delaware staple.
Image Source: Jeff H./Yelp

44. Montana: Slipper Otter Pub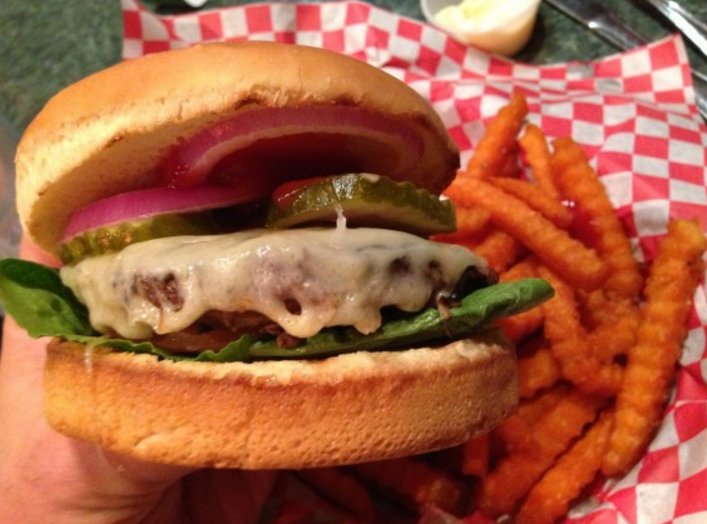 If you live in Montana, you probably already know about this place. But, if you happen to be visiting Montana, we suggest checking out Slippery Otter Pub in West Yellowstone. They have your typical beef burger, however they also offer elk, bison and lamb if you're feeling adventurous. Try pairing your burger with crinkly sweet potato fries and a local brew.
Image Source: Digital Nomad/ Nat Geo

43. Rhode Island: Haven Brothers Diner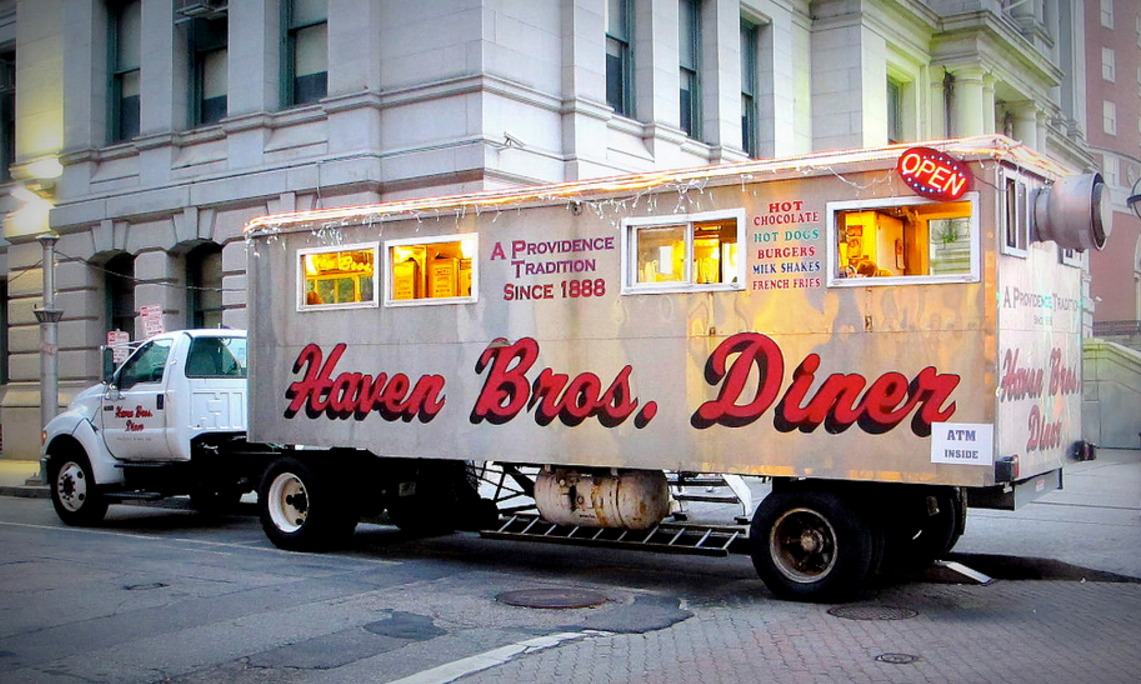 Unlike the other states you have just read about, Haven Brothers Diner is actually a restaurant on wheels around the Providence, Rhode Island area. This is the oldest restuarant on wheels in America. You will hear people rave about the Murder Burger espcially after one of "those nights" where you absolutely NEED food at 3 a.m.
Image Source: Flickr

42. Maine: Owls Head General Store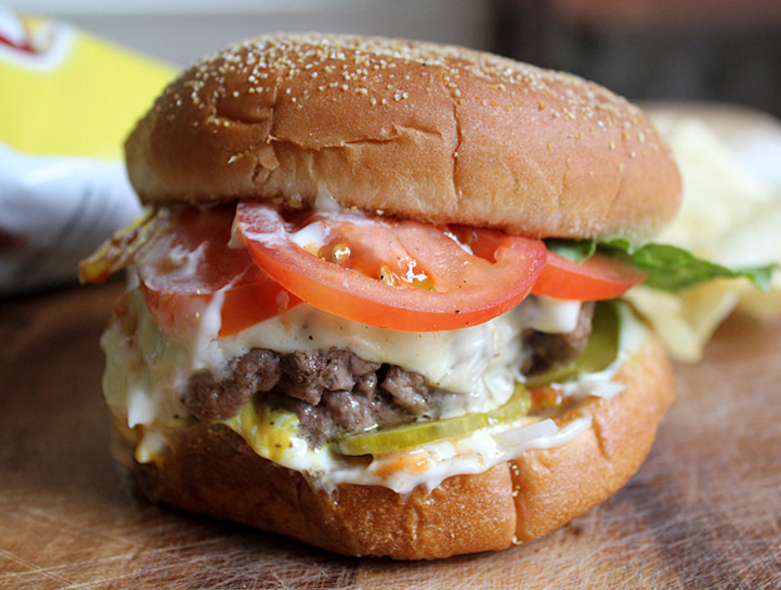 Owls Head General store is a small, road side food spot, located in Owls Head, Maine. This is a happening lunch spot where it is suggested to call in your order or else you will be waiting in line. You can enjoy your meal outside at the picnic tables. We recommend ordering the 7-Napkin burger!
Image Source: From Away

41. New Hampshire: Lexie's Joint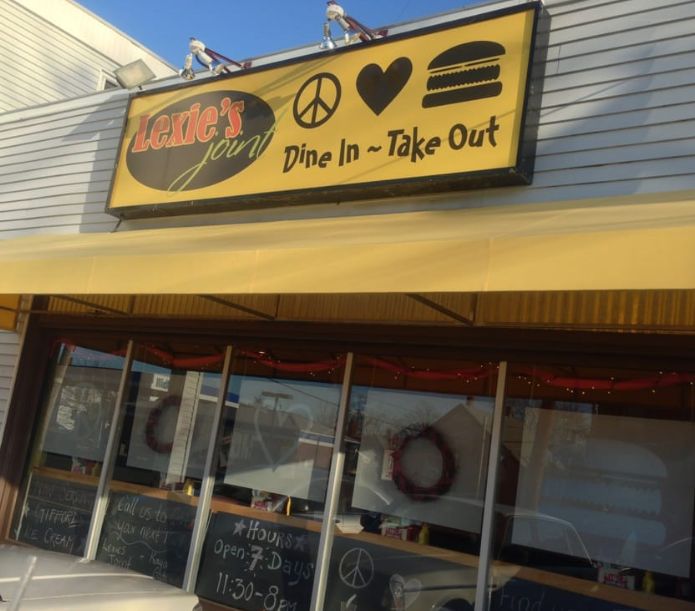 When in Portsmouth, New Hampshire, be sure to get some food at Lexie's Joint. This place is best known for its off the wall burger toppings while having your classic favorites. Lexie's Joint has some interesting names for these burgers as well, such as, "Stairway to Heaven" and "Wild Things." This ties in nicely considering the logo of this restaurant: Peace, Love, and Burgers.
Image Source: Joshua B./Yelp

40. Hawaii: Hukilau Cafe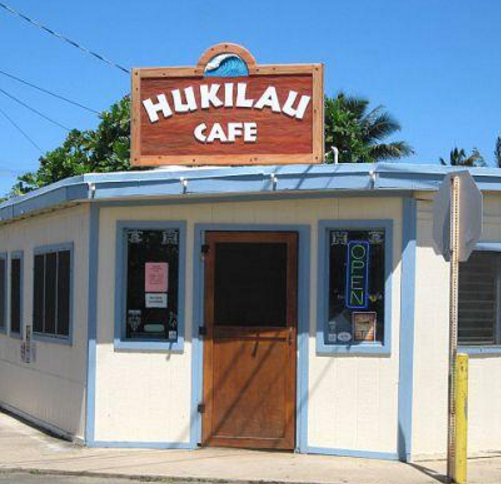 On the Island of Oahu, in Laie, is where you'll find this long time, local favorite cafe. Here is where you can try a the "Loco Moco," Hawaii's version of a burger: a beef patty, with a fried egg on a bed of rice, covered completely in gravy. Hukilau Cafe was featured on Man vs. Food.
Image Source: Pinterest

39. Idaho: Big Jud's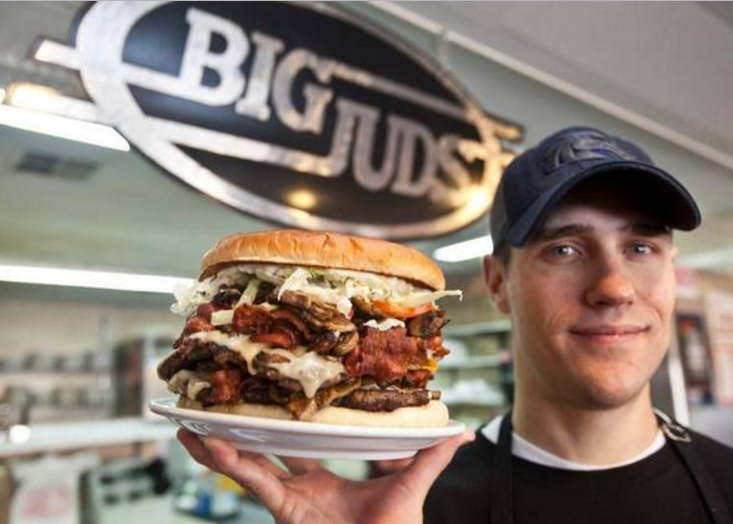 Big Jud's is another burger spot that has been featured on Man vs. Food. This is an extremely popular spot in Boise, Idaho. If you are up for the challenge, try the Big Jud Special. If you're up for a super challenge, try the Double Big Jud Special (a 2lb burger).
Image Source: Idaho Statesman

38. West Virginia: Avenue Eats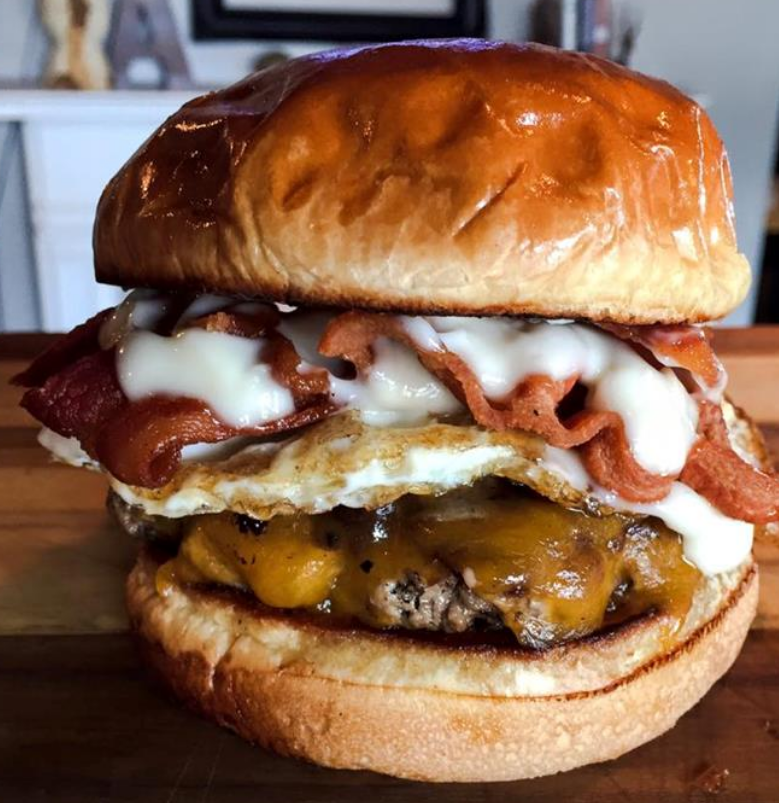 Avenue Eats has a variety of burger options that experiments with many different flavor combinations. Some will say there isn't a better burger spot in a 60 mile radius from Avenue Eats in Wheeling, West Virginia. While you're there, be sure to eat one of their cupcakes!
Image Source: Avenue Eats

37. Nebraska: Stella's Bar & Grill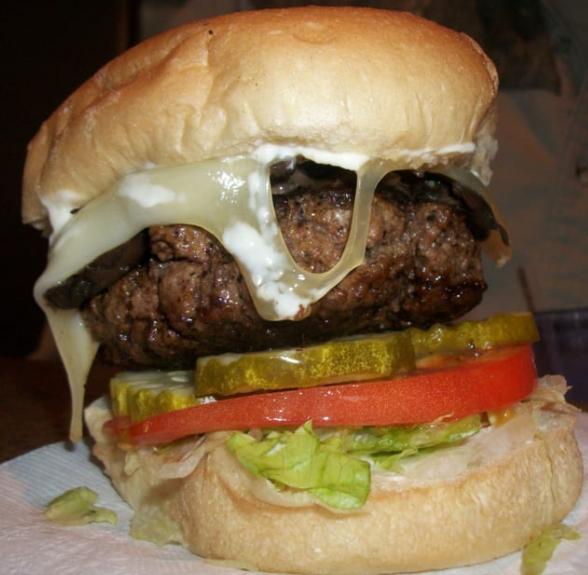 Stella's Bar & Grill has been voted Omaha's best burger place since 2008. Don't expect anything fancy from Stella's; your burger will be served on a napkin and your sides will be served on wax paper. This is an extremely popular spot as there is typically a line forming outside before it opens at 11am
Image Source: Jamie L./Yelp

36. New Mexico: Sparky's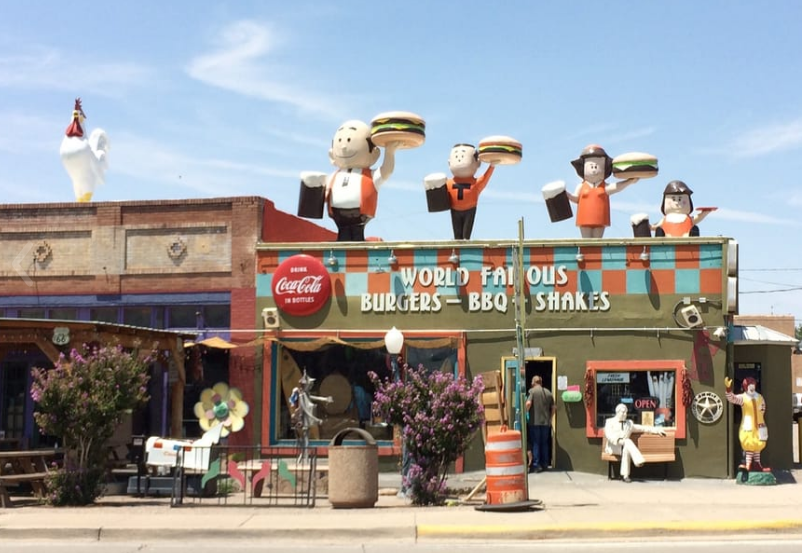 You'll find the World Famous! Green Chile Cheesebuger at Sparky's in Hatch, New Mexico. People go out of their way to stop in Sparky's for a bite to eat. The vintage outdoor decor matches the antiques inside the restaurant.
Image Source: Shannon C./Yelp

35. Nevada: Midtown Eats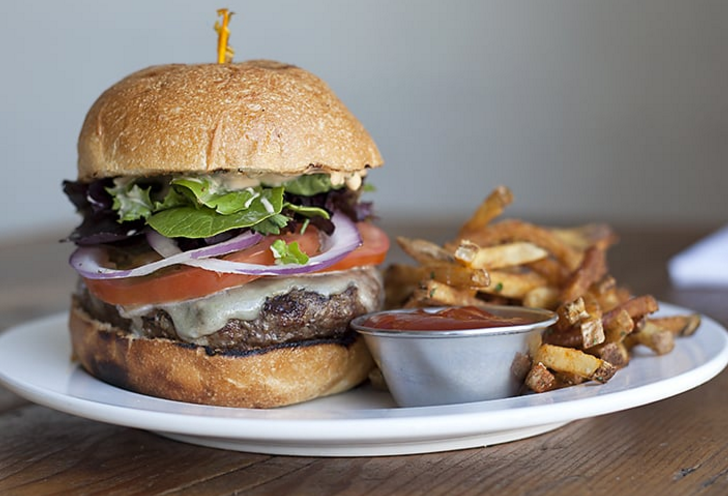 Midtown Eats has a burger for everyone. The family owned restaurant in Reno has a vegetarian option to Bison, Lamb, Elk to the classic beef burger. Feel free to add bacon or a fried egg to any burger you choose. Enjoy Midtown Eats for lunch or dinner, and brunch on the weekends.
Image Source: Yelp

34. Kansas: Winstead's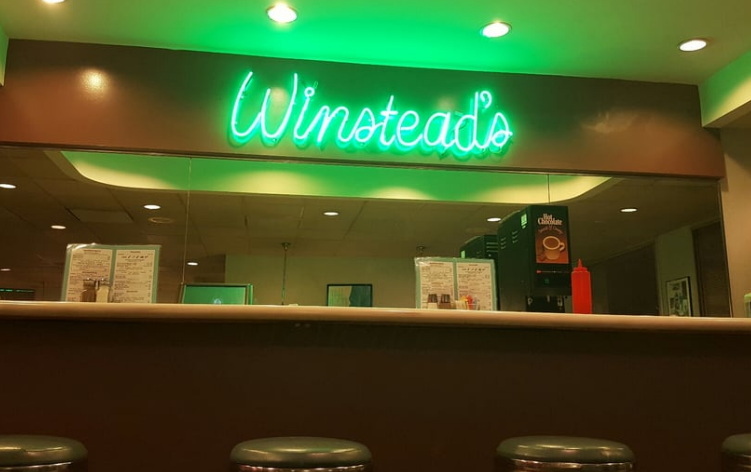 Since 1940, Winstead's has been serving up the Ultimate Steakburger. There are a few Winstead's over the state of Kansas. This place has the ultimate old school diner feel.
Image Source: Jennifer T./Yelp

33. Arkansas: Cotham's In The City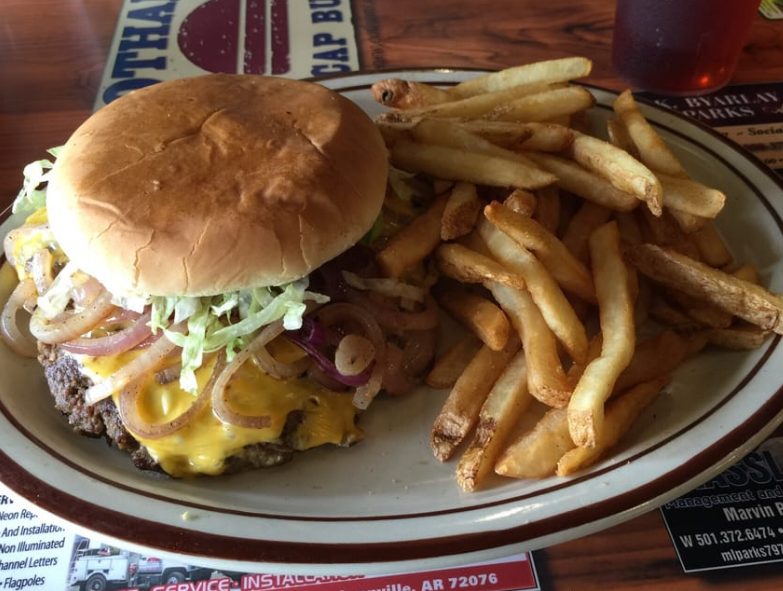 The Hubcap Burger is the most popular item on the menu at this Little Rock, Arkansas restaurant. They are only open for lunch so plan ahead because this place gets crazy busy, which is a good thing because it shows just how tasty the food is.
Image Source: JW A./Yelp

32. Mississippi: Neon Pig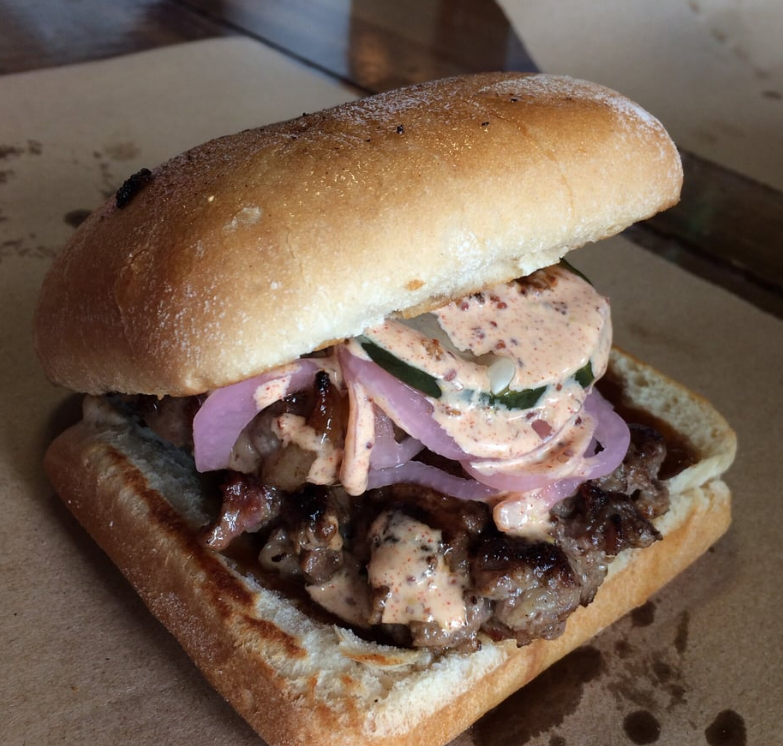 Neon Pig definitely differentiates itself from other restaurants due to the fact that it is also a butcher shop. They also use local animals, and local produce to bring back the "old-fashioned goodness" to the industry. Many rave about the Famous Smash Burger: a combo of aged filet, sirloin, New York strip ground together to make the ultimate burger patty.
Image Source: Roxanne D./Yelp

31. Utah: Lucky 13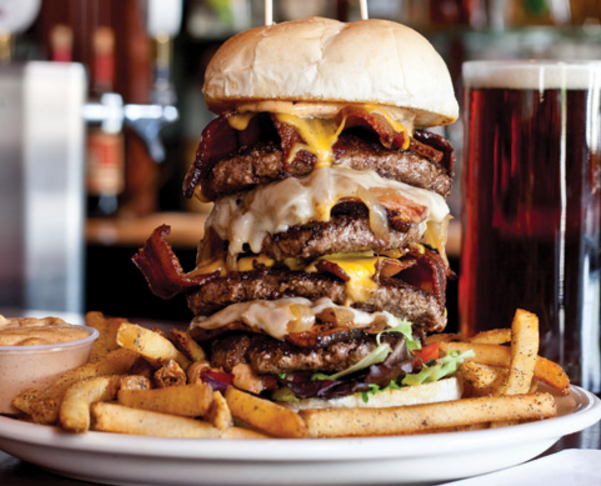 Lucky 13 is a favorite for many Salt Lake City locals. They offer various types of burgers, but the one that stands out the most is the foot tall burger called, "The Big Benny. They challenge you to finish it in one hour by yourself for a $200 cash prize and compensated meal.
Image Source: slmag

30. Iowa: The Cider House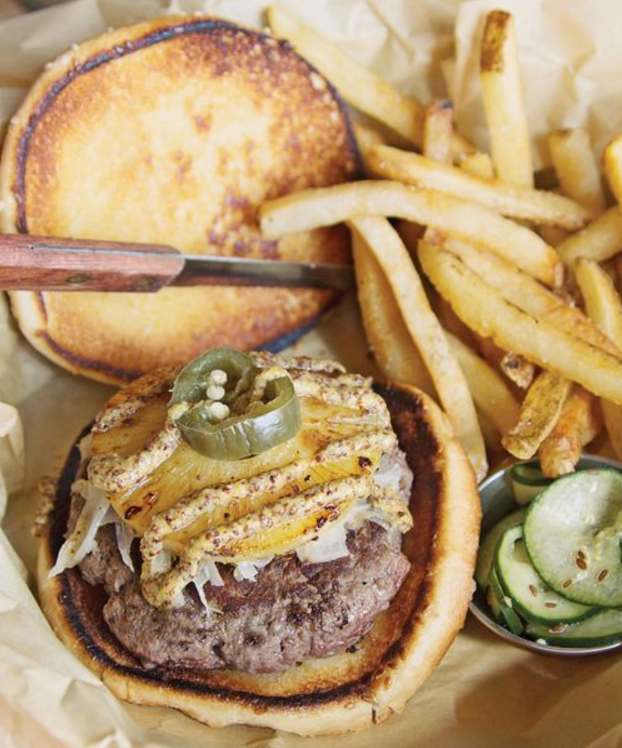 You can find The Cider House in Fairfield, Iowa. Here is where the only items on the entree menu are burgers. Each burger is made with 6.5 oz local beef and seasoned with a dry farmhouse cider. They also offer a vegetarian option along with gluten free buns if requested.
Image Source: Des Moines Register

29. Connecticut: Ted's Restaurant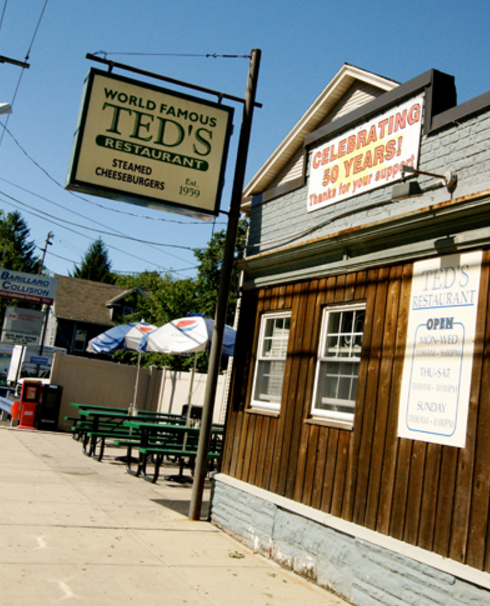 Ted's has been serving steamed cheeseburgers since 1959. This family owned and operated business in Meriden, Connecticut may have changed over the years but they claim the basic principles have stayed the same.
Image Source: Ted's

28. Oklahoma: Tucker's Onion Burgers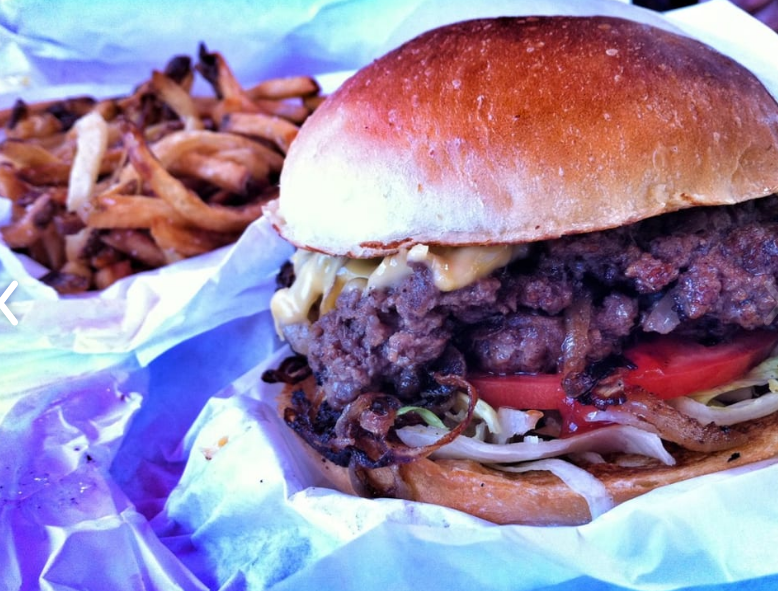 Tucker's Onion Burgers is an Oklahoma favorite. These burgers are made with onions grilled in them. This idea started in the Great Depression because you could make more burgers with less meat. Now, this is a local must have.
Image Source: Tucker's/Yelp

27. Oregon: Skyline Restaurant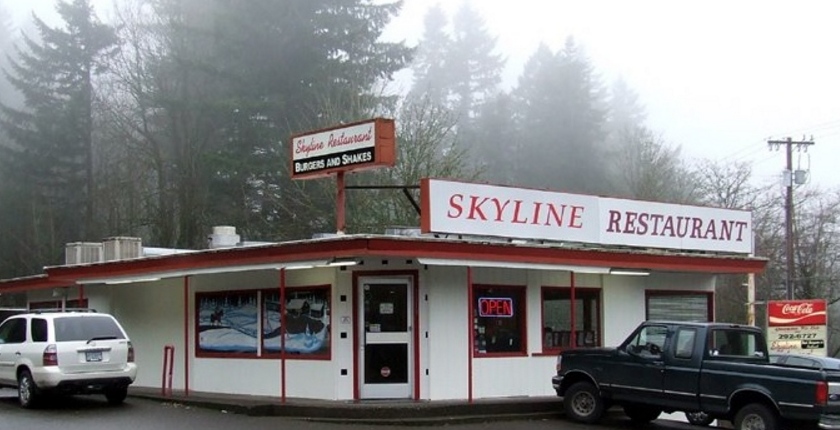 Skyline Restaurant originated in 1935 and is one of Portland's oldest family-friendly diners. Its a little place that serves up awesome burgers, fries and shakes. It was once an drive-in that overlooked Portland back in the day.
Image Source: Eater Portland

26. Kentucky: Ollies Trolley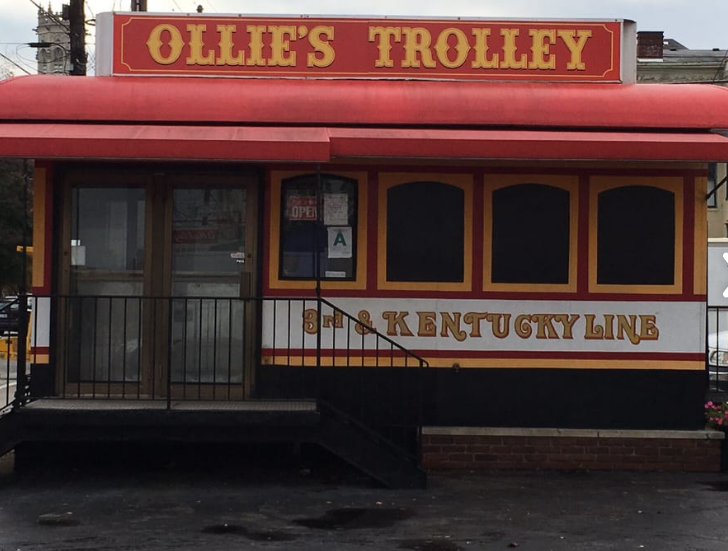 Yup, Ollie's Trolley is exactly what it sounds- A trolley (a building that looks like a trolley). This burger joint is a Louisville staple. Those who have been here will that the burgers are more unique than other traditional burger joints due to the signature seasoning.
Image Source: Dana L./Yelp

25. Louisiana: Mason's Grill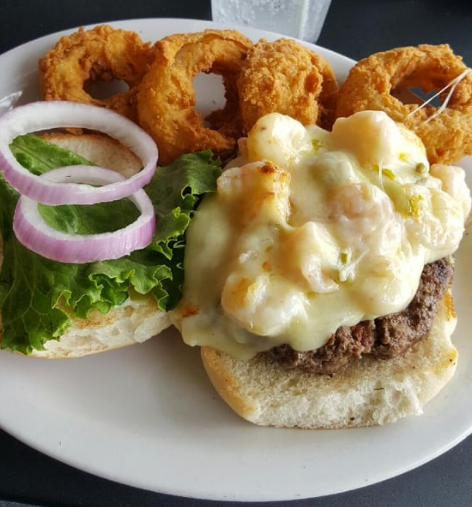 Masons Grill is family owned and operated restaurant that has been serving Baton Rouge, Louisiana since '98. Masons Grill is most famous for their "Bloody Masons" drink, and Cajun Shrimp Burger. If you happen to stop by for brunch be sure to get there early as this is a popular spot!
Image Source: Erica D./Yelp

24. Alabama: Vicki's Lunch Van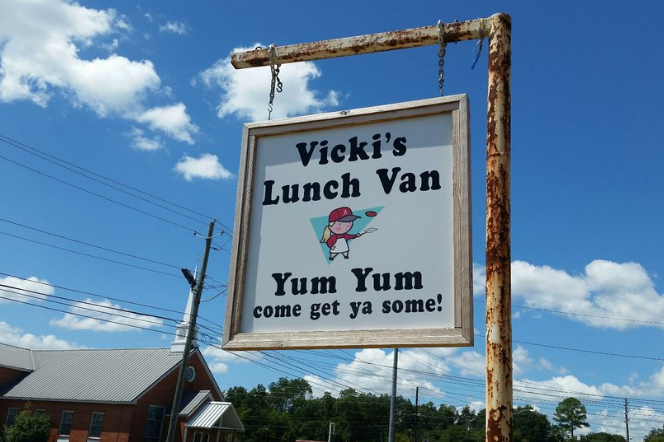 What used to be an old food truck serving Montgomery, Alabama is now a small roadside burger joint. Vicki's is a local gem, and one of the best lunch spots in Montgomery.
Image Source: Rhett B./Yelp

23. South Carolina: Nu-Way Bar & Restaurant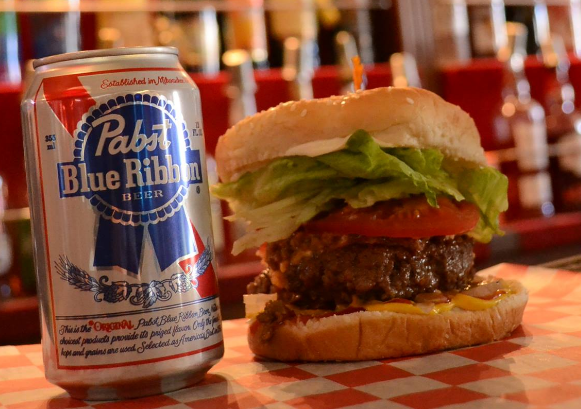 If you're looking for a great burger, a cheap PBR, and some night time entertainment you should try Nu-Way Bar & Restaurant in Spartanburg, South Carolina. Locals will tell you that this is hands down the best dive bar in the area with the best burgers in the state.
Image Source: Facebook
This sports bar is a local favorite in Denver, Colorado. Cherry Cricket lets you build your own burger any way you choose or you can pick an original from the menu. This place will not disappoint you.
Image Source: Business Owner/Yelp

21. Minnesota: 112 Eatery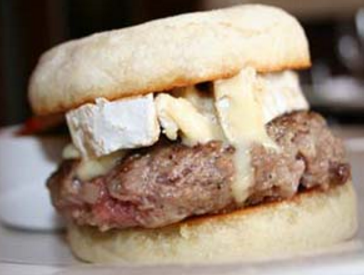 Ask anyone in Minneapolis where to go for the best burger and they will tell you the 112 Eatery. This is more of a fine dining place but trust us when we tell you that you have to try the 112 Burger while you visit.
Image Source: CBS Minnesota

20. Wisconsin: The Great Dane Pub & Brewing Co.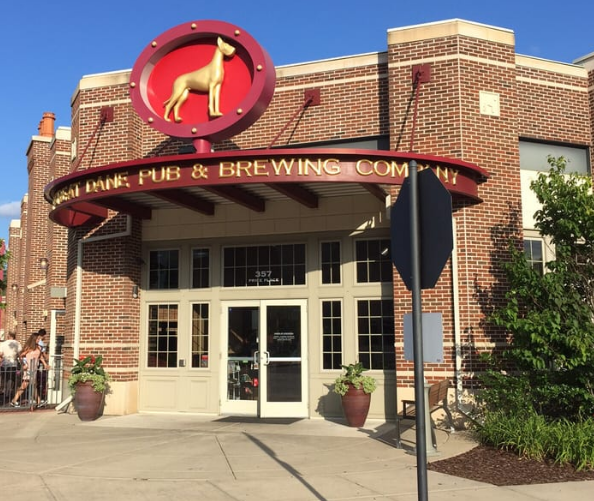 If you happen to be in or passing through Madison, you should definitely try the burgers at The Great Dane Pub & Brewing Co. Locals will rave about the Brat & Bacon Burger that comes on a soft pretzel bun, and a side of cheese curds- a Wisconsin staple.
Image Source: Jim R./Yelp

19. Maryland: They Abbey Burger Bistro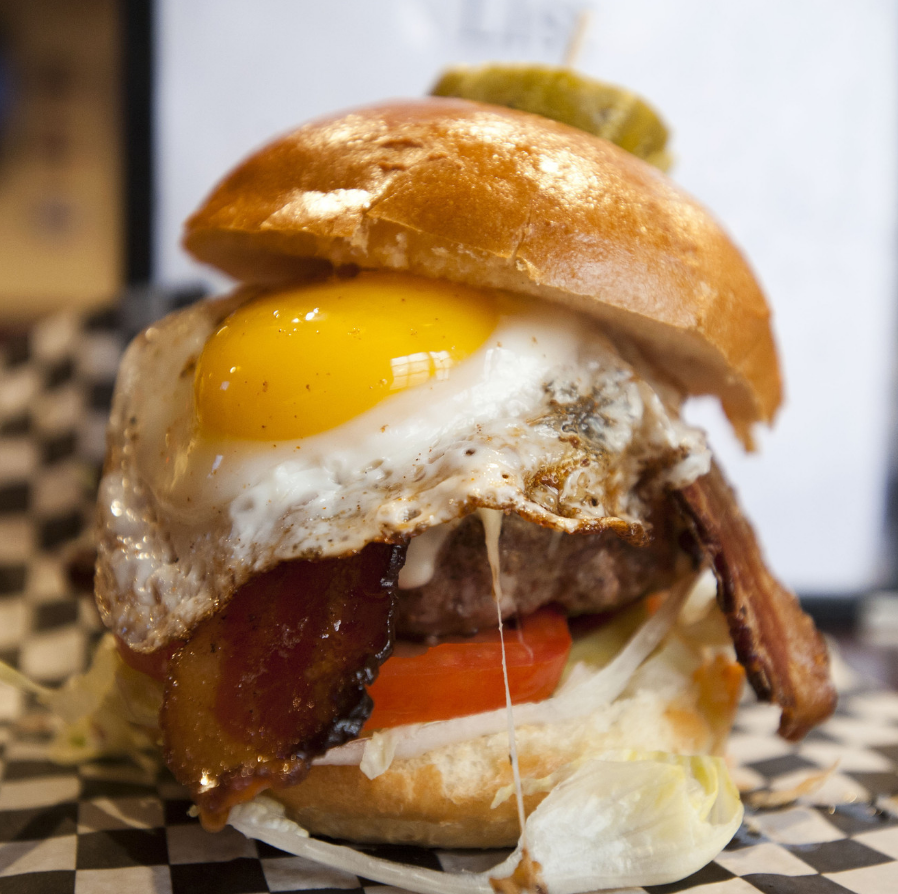 When in Baltimore, be sure to stop by The Abbey Burger Bistro in the Federal Hill neighborhood. With more than ten burgers to choose from, you are bound to have a favorite on the menu- If not, be your own boss and build your own.
Image Source: Baltimore City Paper

18. Missouri: Blanc Burgers & Bottles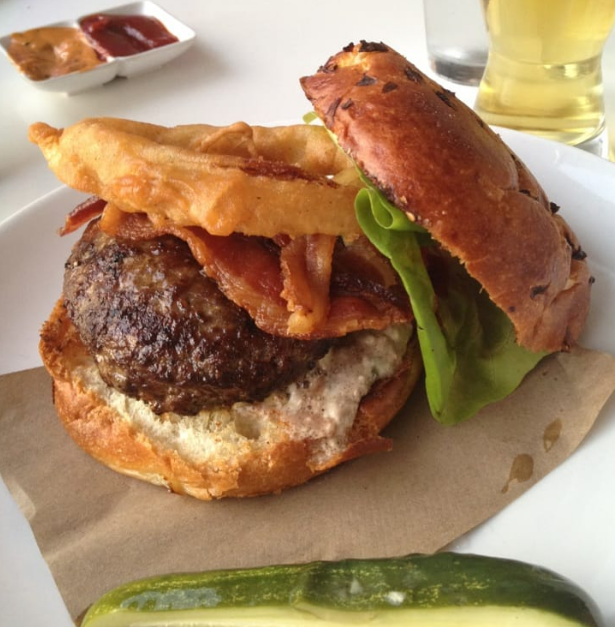 In March 2008, Blanc Burgers & Bottles was born. Blanc is located in Westport, a "historic marker turned entertainment district", in Kansas City, Missouri. This is a modern looking restaurant because the owner wanted it to stand out from all of the historical buildings.
Image Source: Shawna M./Yelp

17. Tennessee: Burger Republic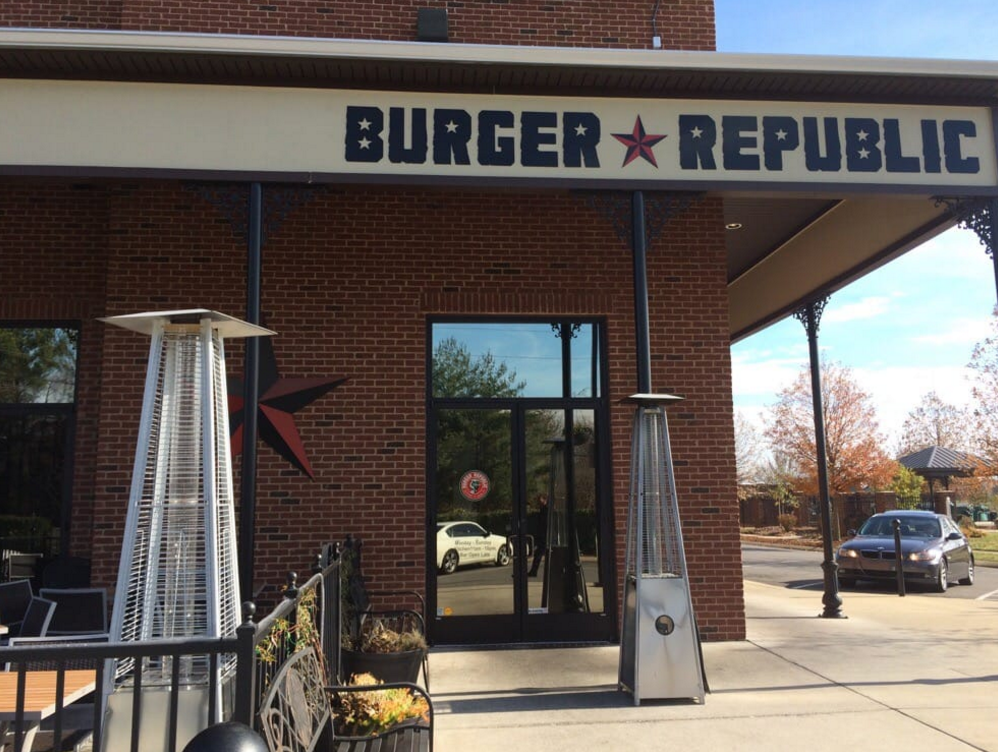 This place promises to something for everyone by offering more than 10 different burgers on the menu. Pair any burger with a (an alcoholic) milkshake and you will be hooked on this Lenox, Tennessee favorite.
Image Source: Kimberly J./Yelp

16. Indiana: Farm Bloomington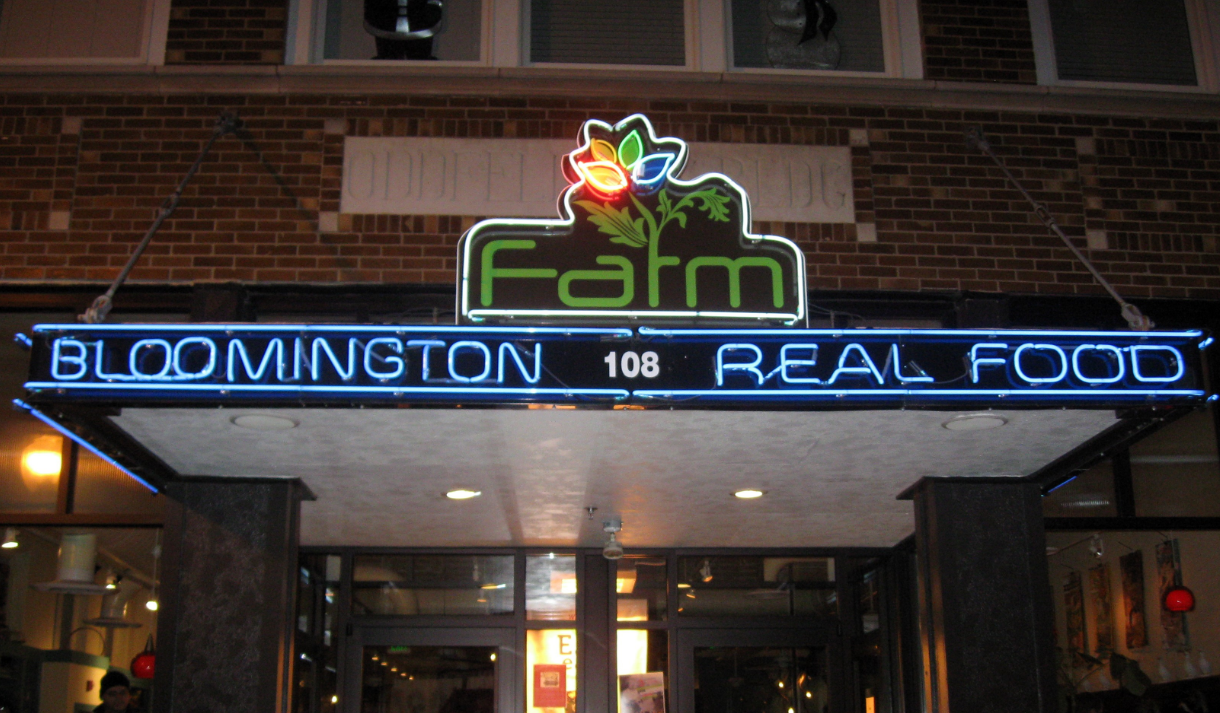 Farm Bloomington was named the best place to get a burger in Indiana specifically because of Lugar Burger: A bison burger with Columbus Cowboy espresso chili rub and more. You will have to try it if you find yourself in Bloomington, Indiana.
Image Source: Visit Indiana

15. Massachusetts: Christopher's Restaurant & Bar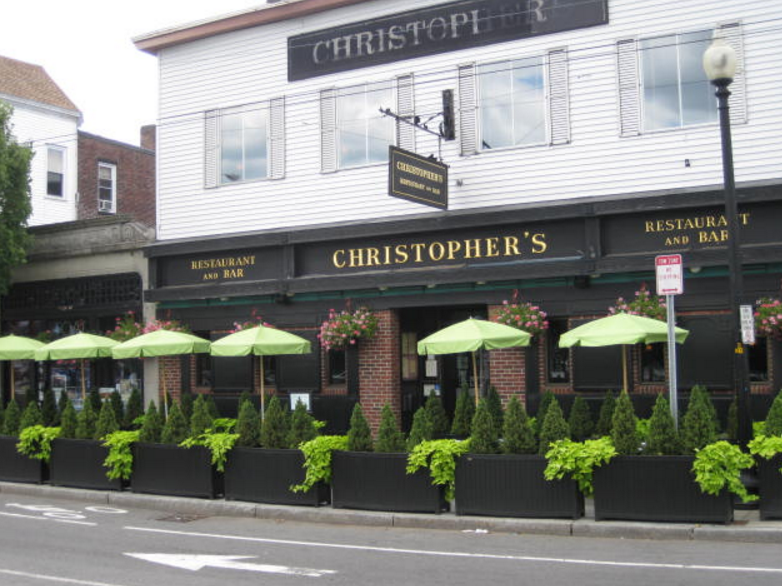 A burger spot in Cambridge, Massachusetts that you don't want to skip out on. This neighborhood favorite is open seven days a week for lunch and dinner. With a variety of "Burgahs" to choose from, you are bound to find one suitable for your taste buds.
Image Source: Eater Boston

14. Arizona: Diablo Burger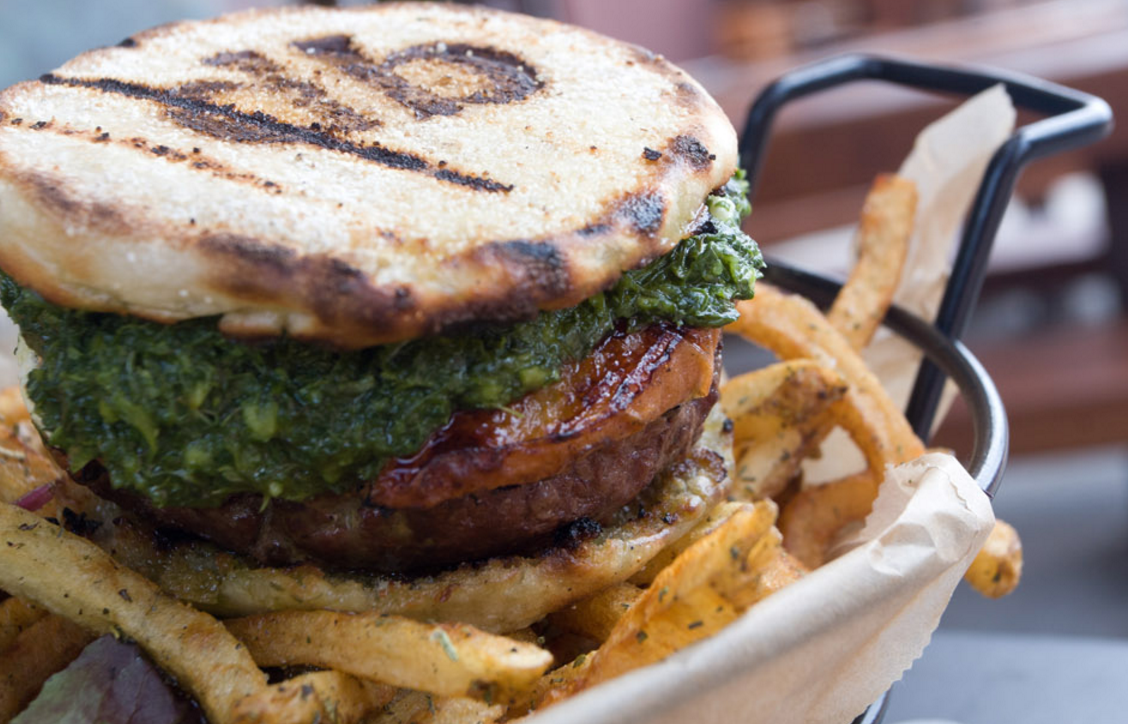 Diablo Burger is an Arizona local burger joint. They strive to only work with local farmers, bakers, ranchers, brewers (and more) within a 250 mile radius in order to "enhance the connection between community and ecology."
Image Source: Diablo Burger

13. Washington: Lunchbox Laboratory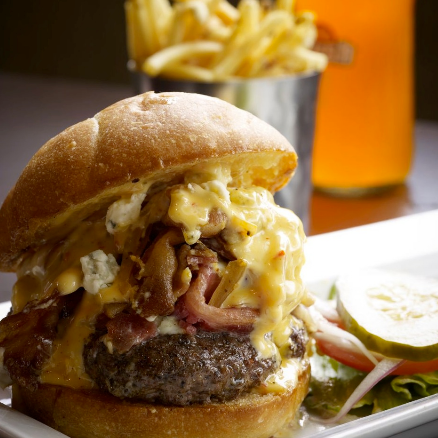 Located in Seattle, Lunchbox Laboratory is a favorite among the city. This place has the most creative burger names such as, "Homage to the Dick's Deluxe, "Big Mac 'MeriCAN*," and "Tear Jerker Part Dos" to name a few. While you are eating, you can enjoy games and trivia in the "rompus room."
Image Source: Lunchbox Laboratory

12. Virginia: The Cavalier Store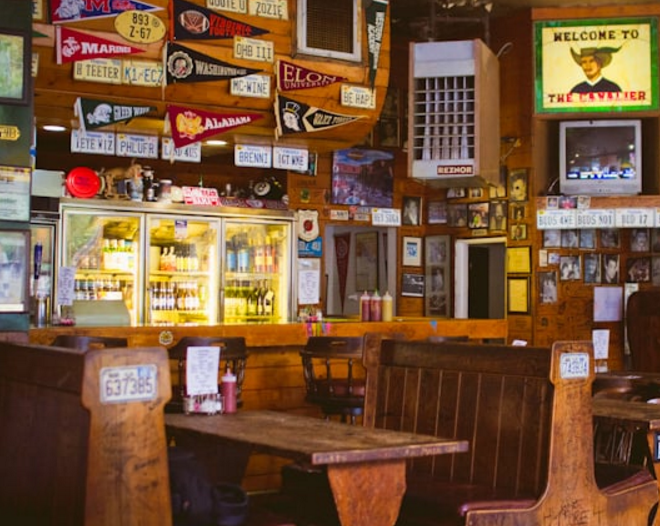 You know that whole in the wall place you are always told to give it a try? Well the Cavalier Store is a true example. This is definitely the college hangout of Lynchburg, Virginia, but loved by the locals as well. The decor really makes it unique and truly shows the personality of the restaurant.
Image Source: Robert J./Yelp

11. New Jersey: Stage Left Restaurant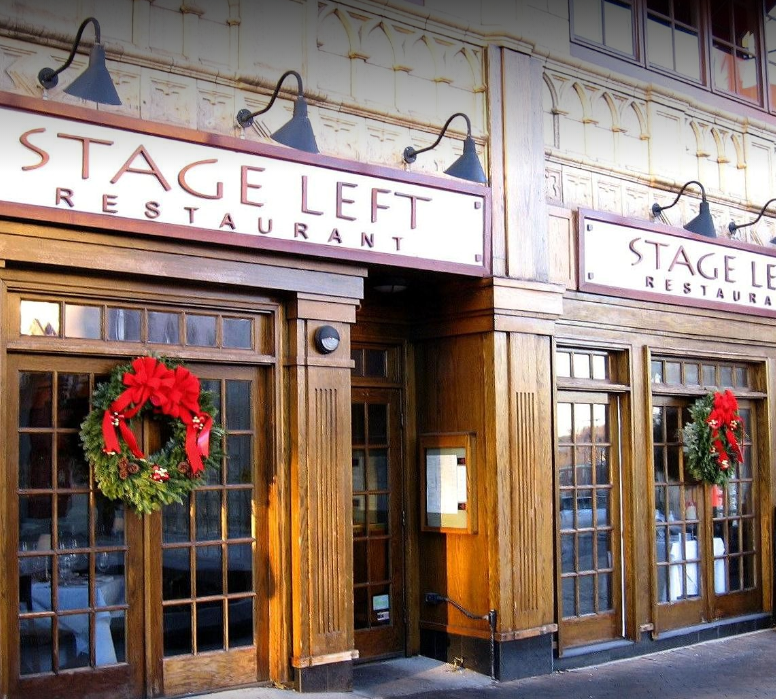 One burger on the menu was enough to name Stage Left Restaurant the best burger place in Jersey. When in New Brunswick, you have to try "The Famous Stage Left Cheeseburger."
Image Source: google

10. Michigan: Hunter House Hamburgers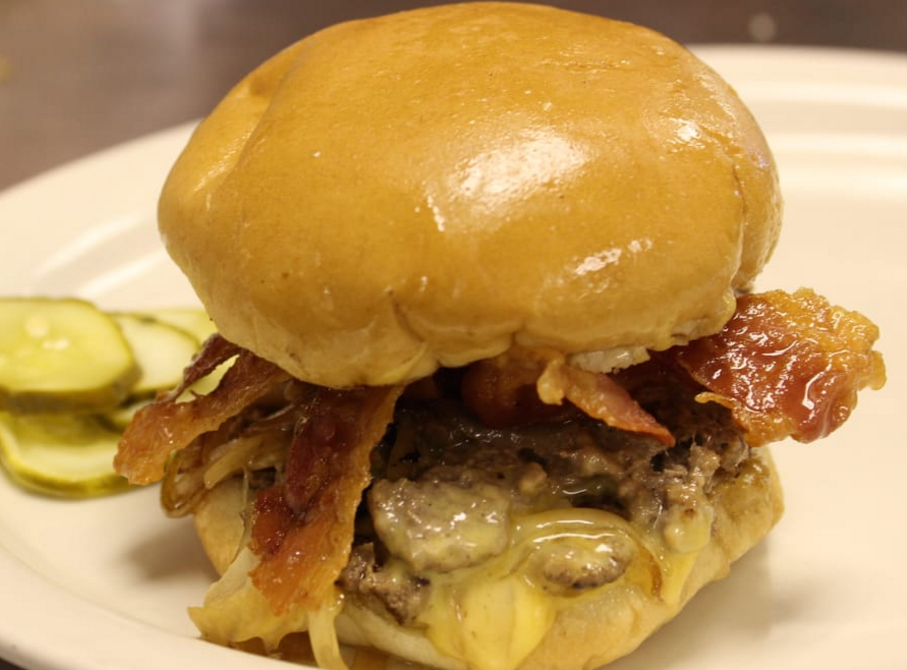 Hunter House Hamburgers in Birmingham, Michigan, sells nothing but sliders. You can choose from a single, double, or triple patty slider. If you're feeling adventurous, add on some bacon, and onion rings.
Image Source: Business Owners/Yelp

9. North Carolina: Johnson's Drive-In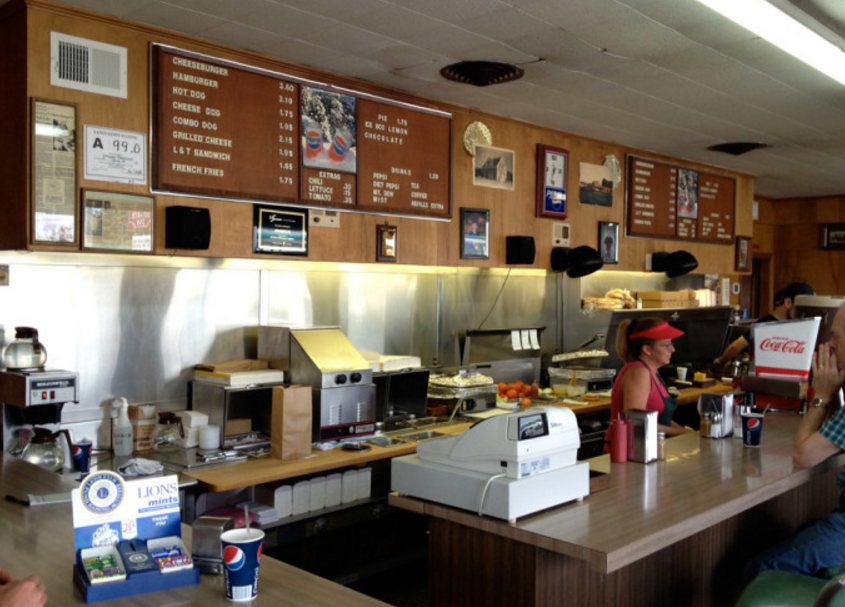 Johnson's Drive-In is a the definition of an old-school fast-food joint. This place has been around for 70 years so you know they will serve you up a killer burger. The menu prices at this Siler City restaurant will make you feel like you just went back in time to when they first opened.
Image Source: Only In Your State

8. Georgia: Ann's Snack Bar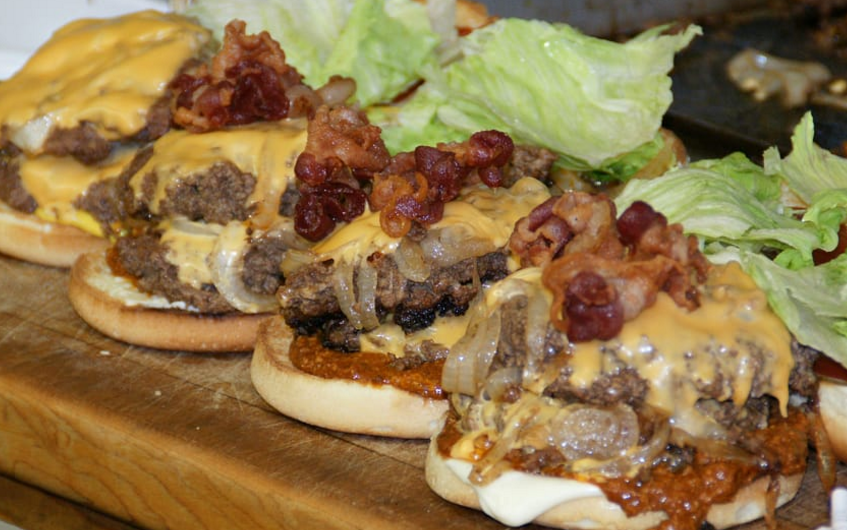 Anne's Snack Bar is an old school, counter serving burger joint in Atlanta, Georgia. Anne's Snack Bar has been owned and operated by Anne Price, aka "Miss Ann," since 1971. You will definitely have to try the famous "Ghetto Burger" if you happen to be in the area.
Image Source: Richard R./Yelp

7. Ohio: Kewpee Hamburgers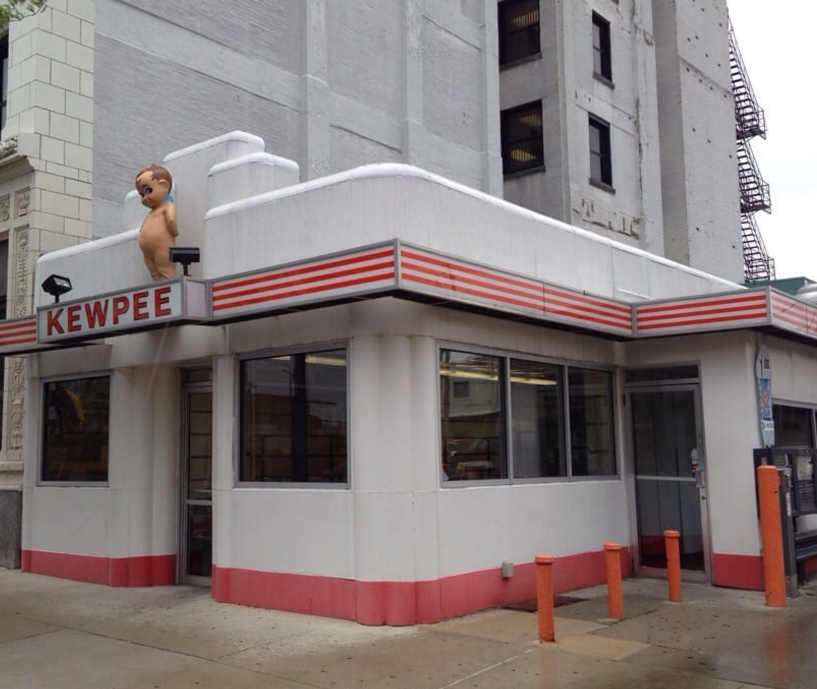 Kewpee Hamburgers is the second fast-food restaurant chain in the U.S. founded in 1923. It got its name after the Kewpee doll. Kewpee Restaurant is considered to be a historical site in the state.
Image Source: Howard L./Yelp

6. Pennsylvania: Royal Tavern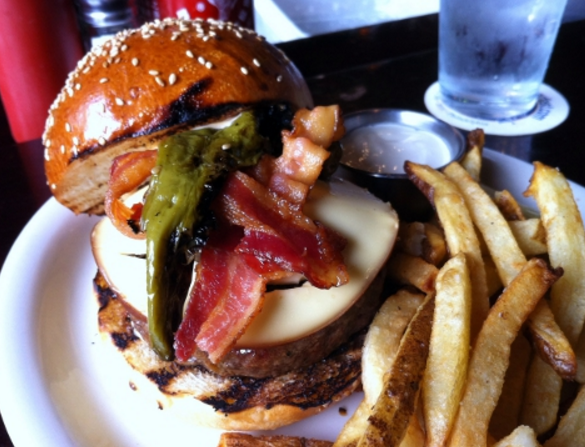 Royal's Tavern definitely holds it own as it is surrounded by top notch, hole in the wall cheese steak joints in Philadelphia. People come here solely for the Angus Burger. This place claims to have the best burgers in Philadelphia but we're going to give them the title of "Best Burger in Pennsylvania."
Image Source: Bridges, Burgers & Beer

5. Illinois: Au Cheval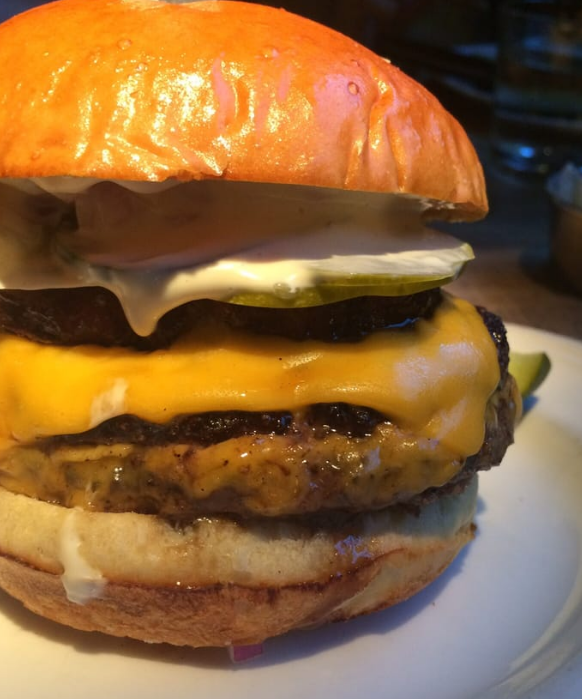 Don't let this hipster hangout fool you, Au Cheval has some of the best burgers in Chicago, Illinois. Though you might think to come to Chicago for pizza, we suggest stopping in Au Cheval for something different.
Image Source: Deanna S./Yelp

4. New York: The Spotted Pig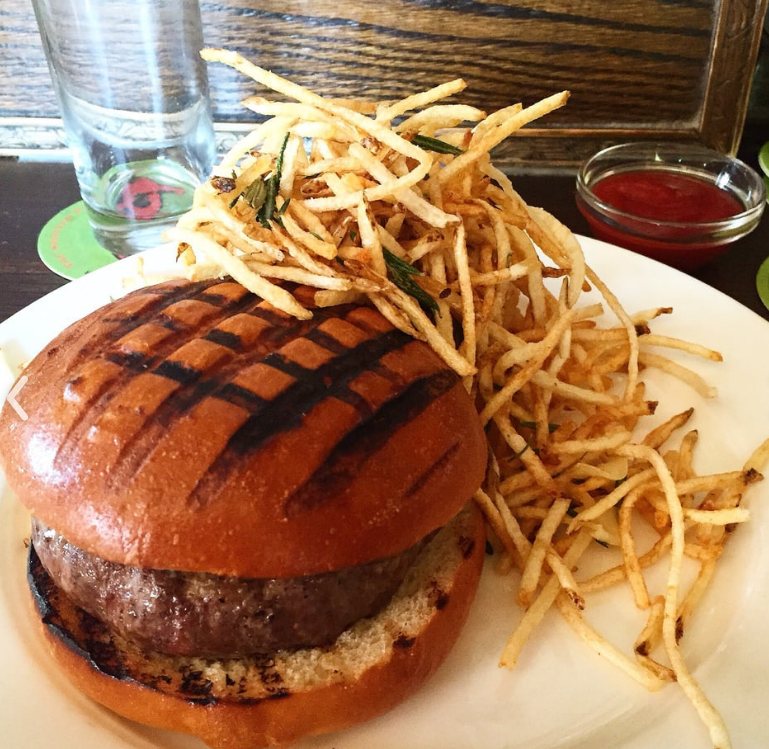 Yes, we know there are a lot of burger places in New York and especially in the City. However, when we think of the "The Best," The Spotted Pig is definitely a place to check out for a great burger and fun time. The place is always filled with people so come in early for a drink at the bar before your dinner (or lunch).
Image Source: Fred P./Yelp

3. Florida: Charm City Burger Co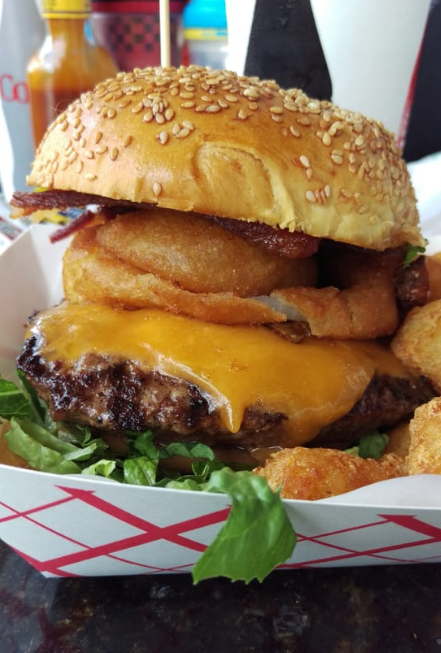 What makes this Deerfield Beach burger joint a hit is not just the burgers, but the unique naming to the burgers. From "The Southern Belle," "My Big Fat Greek Burger," to "The Mobster," and "The Gobbler," this place gets an A++ in creativity.
Image Source: Adam S./Yelp

2. Texas: Perini Ranch Steakhouse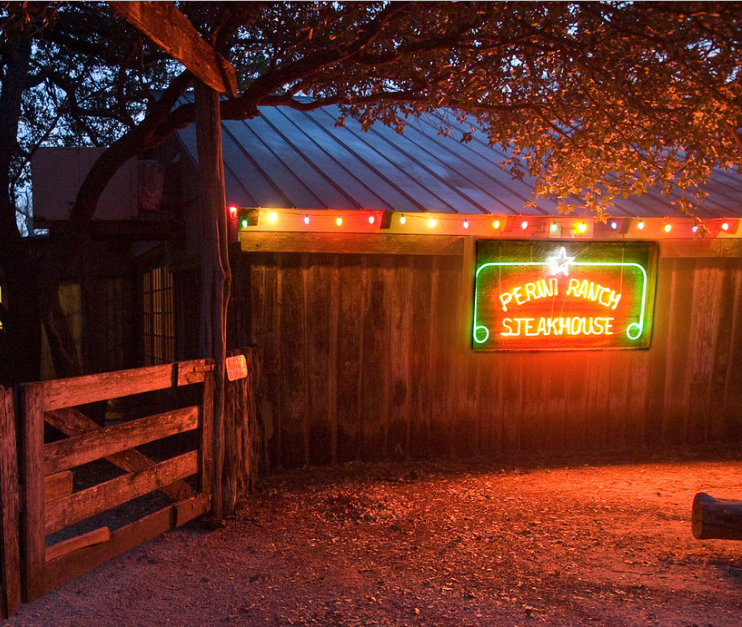 This small town restaurant is so tasty that it was featured on The Today Show. The burgers are so big that they are served with a fork and knife- just like any steak. Tom Perini's love for his family's ranch motivated him to open and serve the best cowboy food in Buffalo Gap, Texas.
Image Source: Perini Ranch

1. California: In-N-Out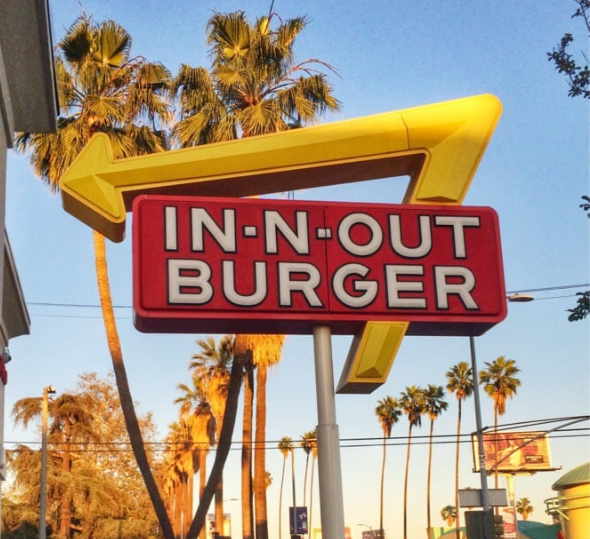 Sure, California has plenty of super fancy, gourmet, farm-to-table style burger restaurants but when you want a traditional burger your best bet is to go to the nearest In-N-Out. Yes- it is a super touristy place but its awesome. To fit in with the locals be sure to learn what "Animal Style" means.
Image Source: Lea N./Yelp